Going through my Google Reader this morning reminded me that tomorrow is
Session Beer Day
. Coincidentally, it is also
National Beer Day
.
If you check-in a beer
under 4.5% ABV on untappd tomorrow
, you will earn yourself not only a beautiful Session Beer Day 2012 badge, but also a National Beer Day badge. Two for the price of one.
Awesome.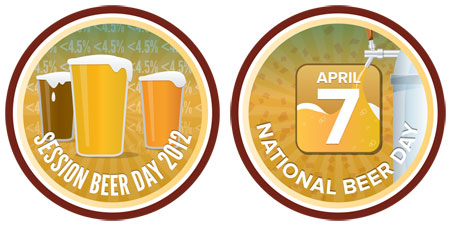 When I read this, I thought about it and told my BrewMaster, "Shep, I don't think we own any beers under 4.5%"
The BrewMaster answered me, "that can't be right, you idiot. We must have something under 4.5% ABV." (The SheppyBrew BrewMaster can get cranky early in the morning, so I tried not to take offense that he called me an idiot).
So, myself and I (er... I mean the SheppyBrew BeerMaster) went through the
SheppyBrew Inventory Page
.
We have
X-Mas Ales
in the 7 and 8% range. That won't work.
Rocktoberfest Lager
is around 6%.
Even the few bottles we have of
Buckwheat's Belgium Pale Ale
are at 5.9% ABV. Might want to adjust that down a bit. I think my plan was to keep that a "sessionable" beer.
We came to
Wetta Blonde Ale
and thought, "Wetta Blonde is probably around 4.5%. Maybe we can use that as a session beer". Nope,
Wetta Blonde Ale
is 4.7% ABV. We consider that a session beer, but it would not get us the Session Beer Day badge.
Even the one bottle of
Gringo Cerveza Jalapeño Cream Ale
, which I specifically designed to be a session beer is over 4.5%. Incidentally, the
batch of Gringo currently in the fermentors
is way over 5% even though I had intended it to be a session beer.
I won't go through them all, but you get the idea. I don't have very many low alcohol beers.
The BrewMaster was right. We do have a couple of beers under 4.5% ABV. The two beers I have "in stock" that fall in the untappd session beer definition are
Free the Glutens! APA
, and
Red Failure
.
Free the Glutens! APA
is only low in alcohol (4.3% ABV) because my gluten-free ingredients don't ferment as well as real beer ingredients. Red Failure is only low in alcohol (3.9% ABV) because I screwed up the brewing of the beer and watered it down.
Low in Glutens and Low in Alcohol.
You might be surprised to know that I am actually a fan of the session beer. There is no official definition of a session beer, but generally speaking it is one that is lower in alcohol so that someone can drink more than one in a session. Personally, I tend to think anything at or below 5.5% is a session beer. Untappd picked 4.5%, which is a number I've heard before. I know some people only consider beers below 4% as sessionable beers.
Regardless, one of the things that bugs me about the craft beer industry is that so many breweries try to make bigger and bigger alcohol beers and tend to neglect ones are nice and easy to drink without necessarily getting drunk. Just a couple weeks ago I mentioned that the
Dogfish Head 120 Minute IPA
has too much alcohol in it, and quite often the beers I don't care for on the list are the ones in which I can taste the alcohol.
I keep hearing and reading craft beer experts telling me that the next "big thing" in the craft beer industry is going to be an increase of session beers. I keep hoping that it is true, but they have been saying it for a couple years, and so far I really have not seen evidence of that being the case.
Anyway, I do plan on making some nice session beers as we get into the summer months. Again, for me, that means beers in the 5 to 5.5% range, but I think I'll try a few even lower.
Everyone have a happy
Session Beer Day
tomorrow.